Project
| | |
| --- | --- |
| | This was my first Jeep, a '79 CJ7. Not long after I bought it, the 258 I-6 blew and I threw a Chevy 350 in with an advanced adapter to the T-150 3 speed. Then I sold it. The kid I sold it to got hit by a person running a stop sign, and totaled it two weeks after I sold it. |
| On my way to work a couple of years later, I ran across this '84 Cj7 that happened to have the same motor from my old '79. I had to buy it. Yes those are flames on the hood. They were there when I bought it. | |
| | | |
| --- | --- | --- |
| | The inside was pretty thrashed, so I started stripping it all out so I could fix it up a little. | |
| | I stripped out everything. Then sprayed Zolatone on the inside of the body, and made a stainless steel dash. I also decided to go with 4" round tail lights. Smitty built front roll cage was added later. | |

Two tranny's later, I went with a SM465 4-speed tranny and NP205 transfer case. Then I blew out the rear axle so I put a Scout Dana 44 under the rear and did a spring over conversion. I kept blowing out front hubs so I went with the WARN internal hub conversion kit.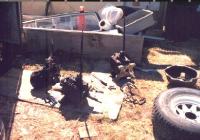 After numerous weekends, it was finally done.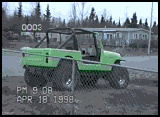 The CJ is now in my garage (Dec `06) for the changeover to a Dana 60 front and rear.
I will add those project photos as the project gets going.