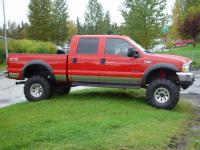 Kevin's `02 F-350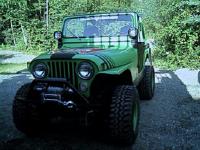 Paul's `76 CJ-5

New everything - 33x12.5, 9500 warn winch, 304 v8, 44 rear with locker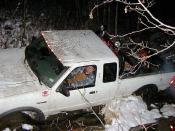 Jon's Ranger
2" lift, Warn XD9000 winch, slightly modified rocker panels, roll bar with KC lights, fire extinguisher and shovel clamps on roll bar, floor jack, 2 tool sets ,supplies 4 welding in the field, extra 4x4 parts, CB and Talkabout, GPS, emergency power pack for emergencies or dremel tool. Dremels are very handy to have along. First aid kits and and survival kits close to grab quick in case of getting swamped. Extra fluids, gear oil, tranny fluid, starting fluid, belts, and stuff like that. I also carry a chainsaw.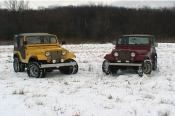 Dave (red) and his son's (yellow) CJ-5
Both are 1979. Except for color and a 2" lift on the yellow CJ both are pretty much stock. Engine 258 / 3 speed transmissions. I am in the process of restoring 2 CJ's a 1978 & a 1980. I should have the 1980 done by spring of 2001 the 1978 by spring of 2002. The 1978 is a frame up restoration.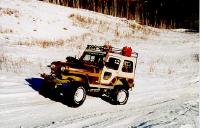 Casey's 77-CJ5
4" BDS, 1/2" Shackle, Full float AMC 20 w/Lock right, Dana 30 Front,35X12.50 15 BFG MT's, AMC 304 (building .060 AMC 360) T-150, D20, etc. etc... Also building a roof rack to hold eight 55 watt tractor lights (i.e. very cheap and indestructible!) and to put all the recovery stuff.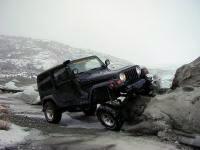 Ky's 99 TJ
4" Rubicon Express lift
Jim's `82 CJ-8 Scrambler
I use the jeep for hunting and trail rides up here in Fairbanks. The jeep sits on a 2 1/2" pro-comp suspension with a springover, tires are 36 x 14.50 x 16.5 TSL, rear end is a ford 9", Dana 30 front end, it's running the 258 with a 5-speed, ford drivelines cut down, heavy duty shackles, steering box brace, 8274 Warn winch and a bumper I just took off a CJ-7 that I bought for $400.00, picture also included.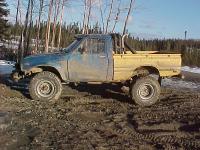 Tasha's Toy